Insight IMD
In contact with the whole world on a daily basis
Agostino Campanielli is a Service & Aftersales Manager at IMD. Together with his team, he is in charge of customer care. This includes commissioning systems, training courses, repairs, servicing and staffing the 24-hour hotline. "I have a highly motivated team – it's really great! We do everything in our power to meet customer requirements."
Did you know that Agostino Campanielli once had a bodyguard, was evacuated in a rubber dingy and could not get a cup of coffee in China? There is no doubt that anyone who travels the world has some great stories to tell!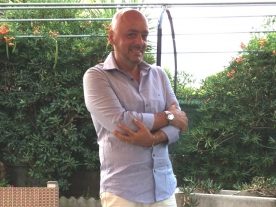 Agostino Campagnielli, Service & Aftersales Manager
With IMD since 2004
Hobbies: Family, sport, clay pigeon shooting and cooking
A Customer Service Manager who knows what it's all about
Anyone who has travelled the world in the capacity of a service technician has gained an insight into many different companies and production sites, is of course very familiar with IMD's systems, has been acquainted with different cultures and knows the true meaning of after-sales customer care. Agostino Campanielli is completely in his element in his capacity as Customer Service Manager. "My job is fantastic. I can make customers happy and have the opportunity to get to know various cultures and people and use my language skills during my business trips."
In contact with the whole world on a daily basis
Today, Agostino Campanielli is in contact with customers all over the world, mainly by telephone. Together with his team, he is responsible for providing aftersales customer care, plans servicing assignments on customers' premises, is in charge of commissioning new systems, training courses, repairs and the 24-hour hotline. He travels abroad himself about three to four times a year. He visits customers, presents servicing agreements and conducts training courses in Spanish.
He could write a book …
Anyone who travels for business has all kinds of experiences. People are flabbergasted by Agostino Campanielli's stories about his travels. For instance, he once had to be evacuated from his hotel in a rubber dinghy due to flooding. In China, it took him more than an hour to explain that he would like a cup of coffee. In Brazil, he was spontaneously invited to a birthday party as if he were already a new member of the family, even though he had only just met the people. In Venezuela, he wasn't allowed to leave his hotel because it was too dangerous. He was then given a bodyguard without further ado. In Mexico, he met an Italian who originally comes from the same village in southern Italy as he does. The village only has 800 inhabitants. The world really is a small place.
What are his hobbies? Peace and quiet, no stress, just chilling out
However, things aren't so quiet when Agostino Campanielli engages in his favourite hobby – clay pigeon shooting. He is an active member of the Bern hunting club and enjoys the sport and companionship within the club. And what else? Family, sport and cooking. Yes, he enjoys cooking, for example for his family, – recently an 8 kg turkey: stuffed and beautifully crisp. He also enjoys spending his free time doing quieter activities. Completely stress-free; just chilling occasionally.